Premiär för tre whiskeys från irländska Hyde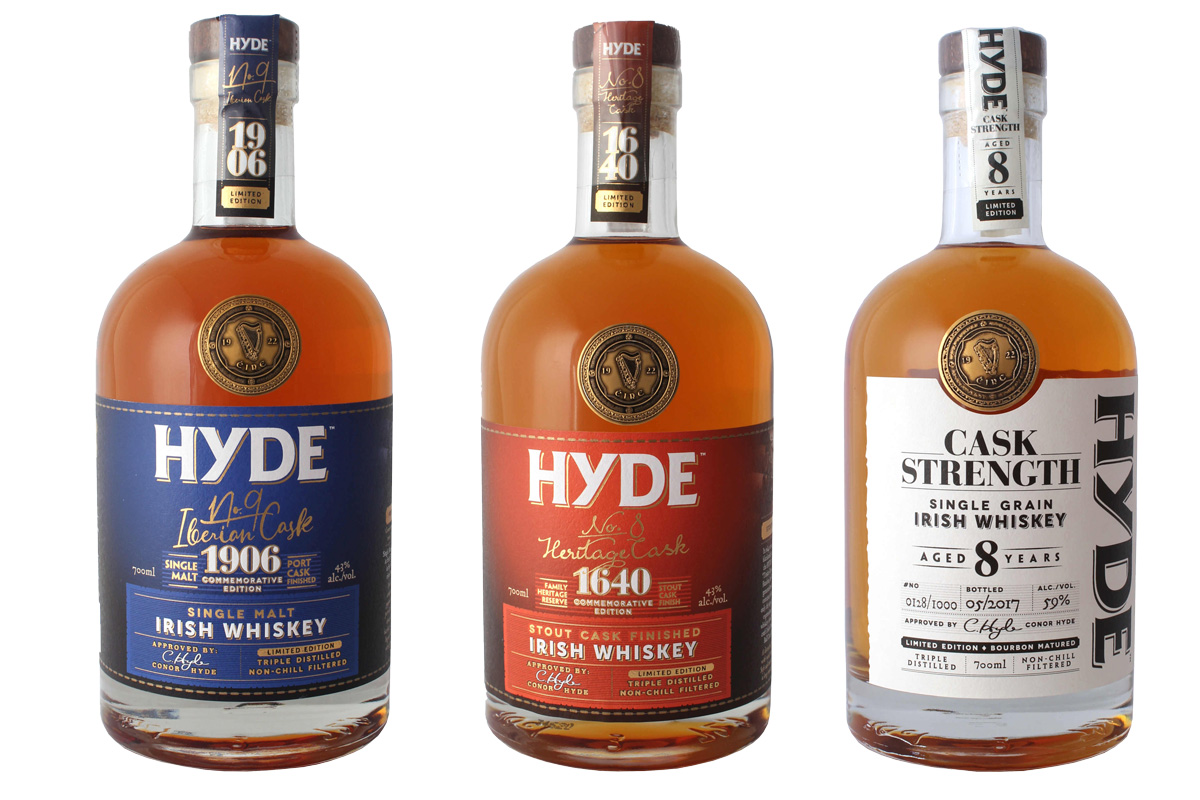 Irländska Hyde distillery är uppkallat efter Irlands första president Douglas Hyde (1860-1949). Varför? Antagligen för att Mr. Hydes ättlingar driver destilleriet idag.
Destilleriet använder parollen "It's all about the wood" och på det temat ger de nu ut två roliga fatlagringar och en single grain.
Den första fatlagringen är en stout finish, där whiskeyn fått ligga på fat som mättats med stout. Här får de mogna under 5-6 månader.
För den andra har whiskeyn legat på fat som tidigare innehållit portvin. Här har whiskeyn fått ligga i 9 månader och ta smak.
Single grain-utgåvan är gjord på majs i små batcher. Den här är på fatstyrka, 59% och är 8 år gammal.
Hyde No8 Stout Finish 43%
Nr: 52536
Pris: 539kr
Smaknoter enligt destilleriet:
NOSE: A distinctive full bodied malty aroma with sweet
vanilla and roasted coffee bean overtones.
TASTE: Sweet, hoppy, biscuit taste, with a distinctive roasted coffee bean twist.
FINISH: Sweet caramel, perfectly balanced with a long,
smooth, creamy finish…
Hyde No9 Port Finish 43%
Nr: 52513
Pris: 659kr
Smaknoter enligt destilleriet:
NOSE: Dried dark fruits with hints of cinnamon, nutmeg, and blackberry for a "grape meets raisin" nose that defines Tawny port
TASTE: Notes of green apples, honey, citrus, spice, dried fruit, black pepper, and hazelnut, with a vanilla-like buttery
finish that lingers on the palate.
FINISH: Medium to long with a grapey, malty, spicy, lingering finish.
Hyde 8yo Cask Strength 59%
Nr: 52532
Pris: 779kr
Smaknoter enligt destilleriet:
NOSE – Cinnamon and clove with succulent sweet caramel flavours. Complex and spicy with sweet American bourbon notes.
TASTE – Robust single grain spices with a touch of cracked black pepper give way to a buttery vanilla and charred oak taste.
FINISH – Long and satisfying, ending with a silky combination of oak and barley.