Springbank släpper franskt & italienskt

På torsdag (23/3) släpps två whiskies från Springbank Distillery på webben.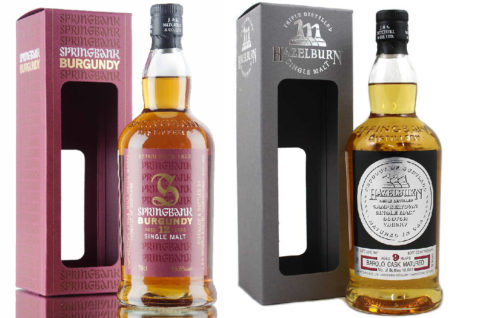 Via importören Symposion kommer två whiskies från Springbank Distillery som webblanseras. Det är 654 flaskor Springbank Burgundy 12 Years som lagrats på nya fat från Bourgogne. Smaken beskrivs så här: " A soft velvet like texture with buttered brown toast and chocolate shortbread complimenting lighter herb and oak notes."
Samma dag och samma tid finns 444 flaskor Hazelburn Barolo 9 YO tillgängliga. De har legat I sex år på first fill-bourbonfat och sedan ytterligare tre år på Barolofat. Officiell tasting note angående smaken lyder: "Peppery with light tannins. The sweetness is continued alongside dried fruits, raisins and the subtle hint of coconut shavings."
Springbank 12 YO Burgundy
Nr: 40058
Pris: 931 kronor
Hazelburn Barolo 9 YO
Nr: 40054
Pris: 951 kronor.